The 30th Anniversary of the Reiki Association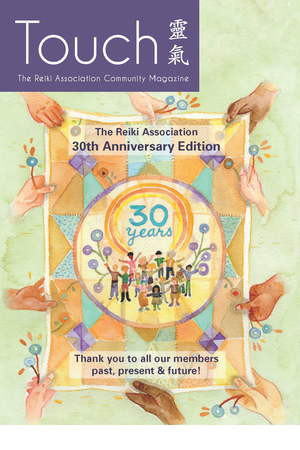 This autumn we brought you a very special edition of Touch Magazine, celebrating 30 years of the Reiki Association.
Our beautiful front cover has been painted by
Liz Maycox
, an artist, designer and Reiki student in Brooklyn, New York. It sets the tone for some of the things we wanted to rejoice about, as we honoured all those who have shaped and nurtured the Reiki Association. The themes running through this magazine are collaboration, community spirit, friendships, connection and the power of Reiki in the world.
As well as looking back to the very first meeting and landmarks in TRA's history, we also shone a spotlight on many of the services that TRA provides for it's members, which are facilitated by dedicated volunteers, known as our 'Circle of Service'. There are contributions from members of our global community, such as
Paul Mitchell
who recognise the Reiki Association's value in the world, and lineage bearer
Johannes Reindl
has a special happy birthday message for our readers.
We also heard from some of our newer members who will undoubtedly be carrying Reiki forward in the world for many years to come; and
Ben Haggard
, a pioneer in Regenerative Thinking poses some enlightening questions that might help our Reiki community evolve.
This issue is a special bumper
68 page full colour edition
, with 50 contributors, some stunning commissioned images and inspiring poetry, so grab yourself a cup of tea and take time to sit back and have a read.
Members of the Reiki Association received this special edition in Autumn 2021 as part of their membership.
If you have Reiki and would like to join the Association please
go here
.
Current stock of this edition is very limited
and there will be no more print runs, so
order now and do not miss out!
To be mailed to within the United Kingdom
(England, Scotland, Wales, Northern Ireland, and includes the Channel Islands)
Use the menu below to select and click on number of copies
---
Please note: we are now only supplying these special issues to customers within the United Kingdom, as postal charges have increased substantially to other countries, along with extended delivery times.
For further help in ordering...
Reiki Association Members
Members of the Reiki Association have received a copy of this Commemorative Edition of Touch Magazine as part of their membership, but you can obtain additional copies, perhaps for friends or students, by ordering on this page.

Order latest copy
Get news about Touch Magazine!
If you have an interest in the world of Reiki, or Reiki people and practitioners, and would like us to email you occasionally about new issues of Touch Magazine and upcoming features or events, then please submit your details below.
Note that we do not supply your details to any other parties, and you can unsubscribe at any time.