Touch Summer 2019 - Remembering Phyllis
Phyllis Lei Furumoto 1948-2019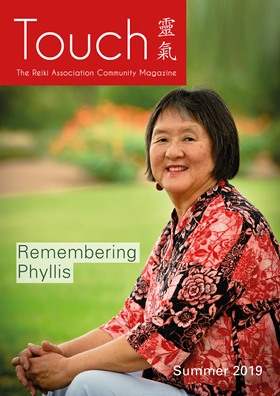 Touch Magazine is delighted to offer a special Commemorative edition in honour of Phyllis Lei Furumoto, Lineage Bearer for the Usui Shiki Ryoho system of Reiki, who passed away on 31st March 2019.
Sharing candid stories and personal photos from many of Phyllis' closest family, colleagues and friends this very special edition of Touch captures the spirit of Phyllis' pioneering attitude, charts some of her travels to far flung corners of the globe and illustrates her untiring dedication to preserving the teachings of her grandmother Hawayo Takata.
With a tribute from Phyllis' wife, Joyce Winough and contributions from Takata masters Paul D. Mitchell, Rick Bockner and Wanja Twan, 'Remembering Phyllis' is rich with teaching stories and anecdotes to keep her memory alive.
There are articles from many of the masters working with Phyllis at the end of her life, those who have been charged with carrying her work forward and reports on some of the ways Phyllis is being remembered around the globe.
Order your copy today to read exclusive articles with prominent Reiki masters Susan Mitchell, Laurence Fontaine, Carlos Sanchez, Scott Howlett, Frank Coppetiers, Rachel Goldberg, Rolf and Li-Li Holm as well as comments from Phyllis' chosen successor Johannes Reindl.
There are touching tales from our UK Reiki Association membership: Kristin Bonney, Milly Cain, Narkess Aralova, Candace Caddick and Feona Gray and beautiful artwork from Fokke Brink and Michael Hartley.
If you would like to buy copies of this edition, (with special prices for multiple copies - UK buyers only), please use the buttons below. There will be no more print runs, so stock is limited. Do not miss out!
To be mailed to within the United Kingdom
(England, Scotland, Wales, Northern Ireland, and includes the Channel Islands)
Please use the drop menu below to select and click on number of copies
---
To be mailed to countries within the European Union (EU), Iceland, Norway, Switzerland and Russia
Please use the button below to order
---
To be mailed to USA, Canada, Australia, New Zealand, the Far East, and any countries worldwide not already included in menus above.
Please use the button below to order
Please note: customers outside the UK are responsible for any VAT or import duties the country being mailed to may impose.
For further help in ordering...
Reiki Association Members
Members of the Reiki Association have received a copy of this Commemorative Edition of Touch Magazine as part of their membership, but you can obtain additional copies, perhaps for friends or students, by ordering on this page.
Get news about Touch Magazine!
If you have an interest in the world of Reiki, or Reiki people and practitioners, and would like us to email you occasionally about new issues of Touch Magazine and upcoming features or events, then please submit your details below.
Note that we do not supply your details to any other parties, and you can unsubscribe at any time.